SKU: 68RFE-300A
Regular price
Sale price
$1,798.50
Unit price
per
Sale
Sold out
In Stock ships same or next business day
CORE CHARGE - $500 FEE WILL BE APPLIED AT CHECKOUT
RevMax ZeroFlex 68RFE Billet High-Performance Towing/HD Valve Body
Are you having transmission valve body issues or just looking to upgrade your valve body? Well, you have come to the right place! RevMax is the industry leader in high-performance diesel transmission valve bodies. There are a lot of other competitors out there offering valve bodies and sometimes it may seem hard to differentiate what's what and why ours may be a little bit more expensive than some, but there are a lot of reasons.
RevMax has been offering high-quality computer dyno tested valve bodies for over a decade. All of our technicians have undergone extensive training and are the best in the industry. Unlike our competitors, we do not do any reaming or valve oversizing by hand. Each and every valve body we rebuild is machined on our state of the art Haas CNC milling machines, just like the factory did when they made the valve body originally. These CNC machines cost over $100k each! By the use of these machines, we eliminate human error that is very common when valve bodies are machined by hand. The precise alignment of the reamer to the bore is nearly impossible to get perfect by hand and this is where our CNC machines thrive. We use a Rennishaw probe to dial in each valve body to the reamer prior to the valve being cut. This allows us to be within .0005" within the original centerline of the bore. Hand reaming is lucky to keep .002" tolerances. Being off by just .001" can cause valves to stick and sideload and ultimately lead to complete transmission failure.
Each RevMax valve body has a predetermined protocol that is followed for each valve body type. This protocol ensures that the customer gets the highest quality product each and every time. We do not just go thru and replace what is bad on each specific valve body, instead, a standard protocol is followed that replaces all known failure prone parts, even if they are still in good working order. In addition, we then check over the entire valve body to make sure that non-problematic areas are in good working order and if not, we repair these areas as well.
RevMax has proprietary technology and workflow processes that make our product superior to the competition. We also have the industries best testing equipment. To start, we vacuum leak test each and every valve body after cleaning. Finally, each valve body is dyno tested on one of our fully computerized valve body dyno machines. The results are compared against a brand new valve body and the data is then stored and available to be viewed by the customer if requested.
Many years back we (circa 2014) RevMax began using billet valve bodies in their 68RFE 1000 series transmissions. These units featured on demand lockup and the rigidity of a billet channel casting. These were offered for a short time by us but the market was not yet open to paying for what was thought to be an unneeded and expensive item. We stopped selling this an option in 2015 and mothballed the project.
Our initial 1" solid version was a game changer. It gave the market what they asked for, a perfectly flat, rigid and smooth surface finish. As great as it was, it did have a drawback, as it could not be used with some aftermarket pans or with any stock pans. Customers have commented that they wanted a new design channel plate that incorporated all of the initial designs' features yet allowed it to be used with a stock pan or with any aftermarket pan. After nearly 8 months and 6 revisions we now have the V2.0 available!
Our V2.0 still is 1" thick but this new version has precision cutouts that allow the use of a stock filter and pan. Unlike other designs, we still have full depth worm tracks in crucial circuits. The other designs we have seen have only a .190" deep worm track in several critical circuits. One restricted circuit is the combined vent track. This track is responsible for all venting operations and in particular the problematic SSV valve. The next restricted circuit is the torque converter clutch signal circuit. Restrictions in this circuit creates all kinds of torque converter related concerns including; dragging when coming to a stop, overheating, soft or harsh TCC apply or release and back feed issues resulting in P1776 and P0871 trouble codes. Both our original and V2.0 have nearly full depth worm tracks in these areas which eliminate these issues!
Our V2.0 plate will work with ANY aftermarket transmission pan as well as with stock transmission pans. There is no need to alter any part of the pan or use and special filters. Just install it like you would a stock channel plate and go!
The RevMax 68RFE V2.0 ZeroFlex Billet Valve Body features the following:
6061 billet aluminum construction
Deep critical worm tracks
.0003 flatness across the entire plate. The only truly flat billet channel plate!
Micro polished worm track surface. There are no visible or perceptible machining marks or stepovers. This ensures no chance of any leaking due to machining marks.
Large Radius machining on the filter cutout increases rigidity yet allows the use of a stock filter assembly.
Angle milled step downs increase rigidity in problematic flexing areas.
Ability to run up to 325psi of line pressure without any warpage! (transmission tuning, TCM upgrade or pressure box is needed) No pump modifications required for up to 250psi!
Proprietary worm track layout
Shortened Shift Times for crisp, clean shifts
Upgraded valve body to case seals
Billet Steel SSV Solenoid Switch Valve and End Plugs
Revmax Triple Double 3/2 Billet Accumulator Pistons with Dual Seals
Upgraded grade 8 custom fasteners
Upgraded Steel accumulator housing plate that is 3x thicker than stock
RevMax proprietary accumulator springs for improved 3-4 shift feel
RevMax proprietary separator plate with the bonded gasket that eliminates cross leaks and warpage issues
Revmax proprietary upgrades
Hand assembled in Charlotte, NC by Qualified and Caring Professionals!!
Mounting Surface Verified and Flat Filed
Threads Checked and Repaired if Needed
Computerized testing on our state of the art $125k valve body test machines
Ability to run up to 325psi of line pressure without any warpage! (transmission tuning, TCM upgrade or pressure box is needed) No pump modifications required for up to 250psi!
Share:
View full details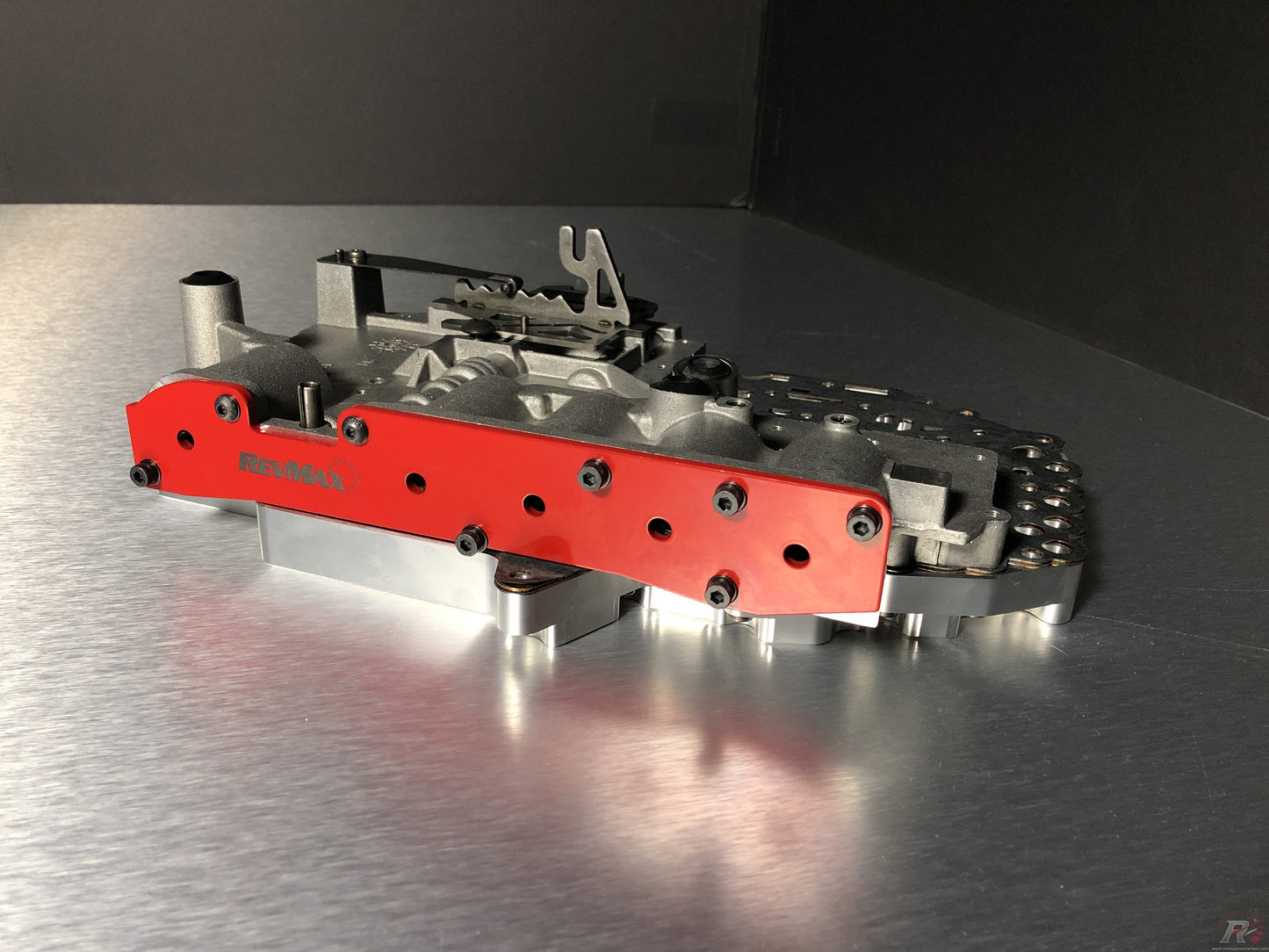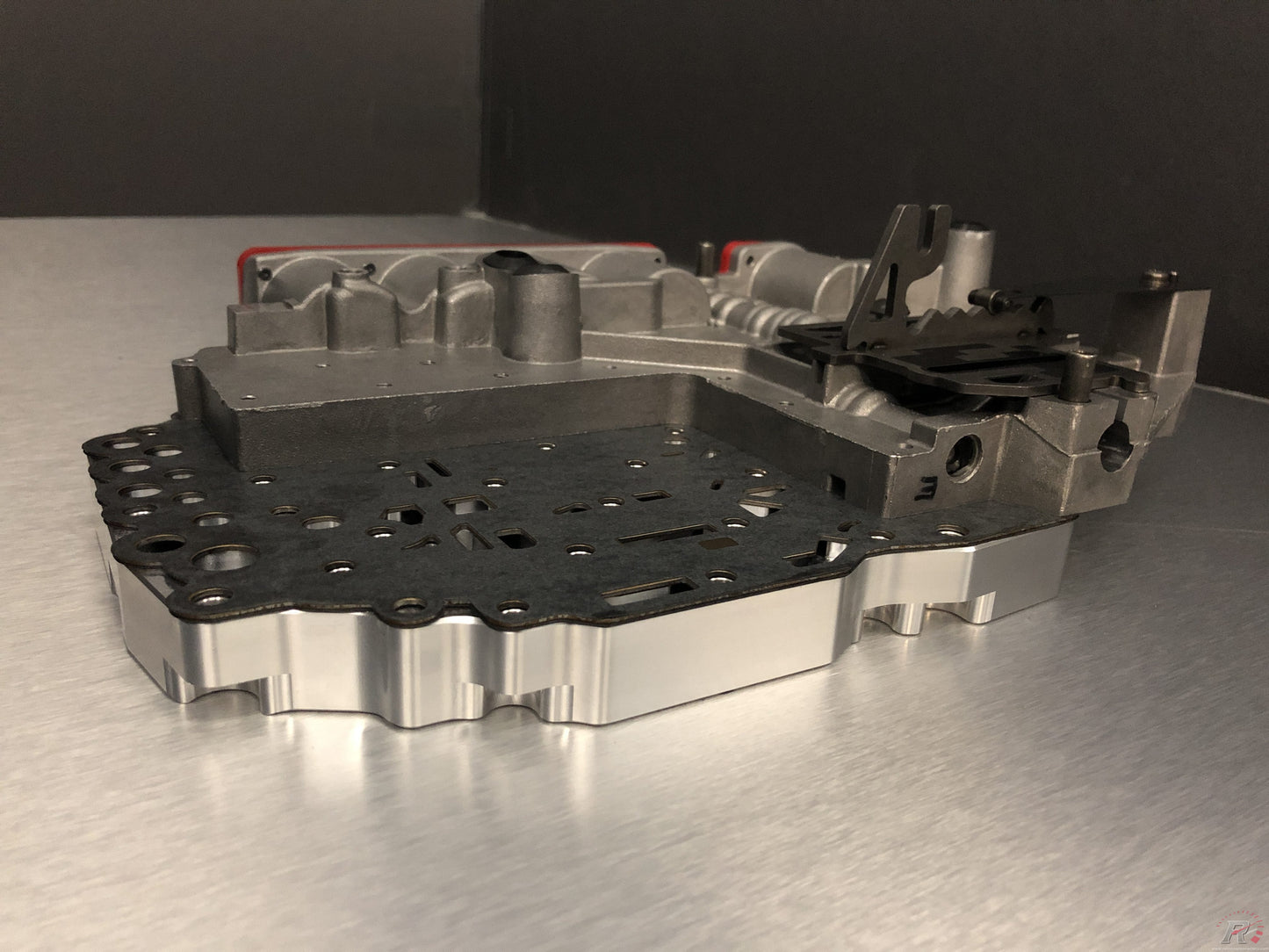 Frequently Bought Together